02.05.2018 | Original Paper | Ausgabe 6/2018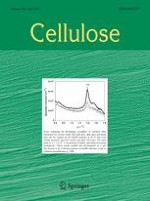 High performance nanocellulose-based composite coatings for oil and grease resistance
Zeitschrift:
Autoren:

Preeti Tyagi, Martin A. Hubbe, Lucian Lucia, Lokendra Pal
Wichtige Hinweise
Electronic supplementary material
Abstract
A sustainable packaging system with excellent liquid- and gas-barrier properties and enhanced strength properties was highlighted by a composite coating containing a mixture of cellulose nanocrystals (CNC), a high-aspect ratio nano-filler montmorillonite clay, an amphiphilic binder soy protein, and a surface-active agent alkyl ketene dimer. They were tested on various surfaces of commercially available packaging papers and compared with the appropriate control (i.e., CNC-only coating) to determine surface morphology, chemical composition, barrier, and mechanical properties. Scanning electron microscopy image analysis showed a compact matrix whose defects (cracks) were significantly attenuated compared to the control while FTIR showed fewer exposed hydroxyl (–OH) groups. The compact structure and reduced proportion of –OH groups are attributed to the plate-like structure, high aspect ratio of clay, and uniform distribution of additives to help inhibit gas, moisture, water, oil, and grease permeation. The base paper used also had a significant impact on how coatings interacted with various fluids. Overall, sustainable CNC-composite barrier coatings with relatively low-cost additives were fabricated and showed improved barrier and strength characteristics with a strong potential as barrier coatings for packaging.
Graphical Abstract
×