15.10.2018 | Energy materials | Ausgabe 2/2019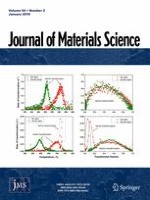 High proton conductivity polybenzimidazole proton exchange membrane based on phosphotungstic acid-anchored nano-Kevlar fibers
Zeitschrift:
Autoren:

Xiao-Bing Yang, Ling-Hui Meng, Xu-Lei Sui, Zhen-Bo Wang
Wichtige Hinweise
Electronic supplementary material
Abstract
A novel polybenzimidazole (PBI) proton exchange membrane based on phosphotungstic acid (PWA)-anchored nano-Kevlar fibers (NKFs) has been successfully prepared by solution casting. Employing NKFs instead of frequently used oxide support as anchoring agent has effectively conquered the problem of the poor interface compatibility between the inorganic component and the polymer, resulting in the excellent dispersion of PWA in the matrix and providing favorable conditions for the formation of consecutive proton transport channels. The as-obtained PBI/NKFs@PWA membrane exhibits proton conductivities as high as 0.029 and 0.051 S cm−1 at 20 and 80 °C without extra humidity, respectively. And benefit from the undetectable leakage of PWA, the proton conductivity retention could achieve 93.16% within 500 h. Simultaneously, the methanol barrier property of the hybrid membrane is far beyond Nafion, indicating a membrane selectivity of 12.08 × 104 S (s cm−3), which is 8.21 times higher than that of Nafion 115. The hybrid membrane allowed for sufficient proton conductivity, robust stability, lower methanol permeability, as well as low cost compared with Nafion, shows great potential for direct methanol fuel cell applications.