01.04.2013 | Ausgabe 4/2013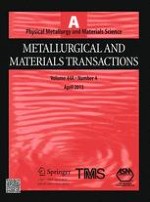 High-Temperature Compression Behavior of Cast and Homogenized IN939 Superalloy
Zeitschrift:
Autoren:

M. R. Jahangiri, H. Arabi, S. M. A. Boutorabi
Wichtige Hinweise
Manuscript submitted June 20, 2012.
Abstract
Hot deformation behavior of IN-939 superalloy was investigated in this work. Hot compression experiments were performed at temperatures of 1273 K, 1323 K, 1373 K, and 1423 K (1000 °C, 1050 °C, 1100 °C, and 1150 °C) at strain rates of 0.001, 0.01, 0.1, and 1 s
−1
up to a true strain of 0.8. Then variations in stress-strain curves as well as changes in microstructures of various hot-deformed samples were studied. At 1273 K to 1323 K (1000 °C to 1050 °C), dynamic recovery (DRV), and at 1373 K to 1423 K (1100 °C to 1150 °C), dynamic recrystallization (DRX), were recognized to be the main mechanisms of the alloy softening during hot compression tests. The relationships between flow stress, strain rate, and temperature were mathematically modeled with three well-known equations, and on the basis of those equations, the activation energy of hot deformation was calculated. For improvement of the proposed models, it was necessary to conduct the investigation at two temperature ranges: 1373 K to 1423 K (1100 °C to 1150 °C), in which DRX occurred, and 1273 K to 1323 K (1000 °C to 1050 °C), where DRV as well as
γ
′ precipitation happened. For each of the temperature ranges, a different value for activation energy was obtained, which in conjunction with the related model, can be used for simulating the deformation behavior of the alloy.