13.08.2018 | Ausgabe 9/2018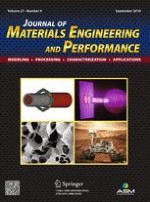 High-Temperature Deformation Behavior of Ti-6Al-2Sn-4Zr-2Mo Alloy with Lamellar Microstructure Under Plane-Strain Compression
Zeitschrift:
Autoren:

Yu Xiao, Huiqun Liu, Danqing Yi, Jianwen Le, Hangwei Zhou, Yong Jiang, Xiaolong Zhao, Zhanqian Chen, Jian Wang, Qi Gao
Abstract
High-temperature plane-strain compression of a Ti-6Al-2Sn-4Zr-2Mo (Ti-6242) alloy with a lamellar structure was applied by a thermal simulation machine Gleeble 3800 at a temperature of 1223-1370 K and a strain rate of 0.01-10 s
−1
. Constitutive relations between the flow stress and strain at different temperatures and strain rates were constructed based on the Arrhenius equation. Processing maps based on the dynamic material model at strains of 0.5, 1.0, and 1.25 were also constructed to analyze the mechanism and instability of high-temperature deformation. Dynamic recrystallization was found to occur at 1223-1313 K and 0.01-0.1 s
−1
, with a peak efficiency of power dissipation of 70%. Observations of the microstructure demonstrated that
α
platelets and dynamic globularization were responsible for dynamic softening in the
α
 + 
β
phase field. Flow instability behaviors occurred at 1263-1343 K/1.78-10 s
−1
, 1233-1283 K/0.1-3.16 s
−1
, and 1353-1373 K/0.56-1.78 s
−1
, and adiabatic shear bands and microcracks were observed in these domains. Thus, for the lamellar Ti-6242 alloy, the recommended hot rolling parameters were 1243-1333 K and 0.01-0.1 s
−1
. Electron backscattered diffraction results revealed that the dynamic restoration mechanism in the
β
phase field was dynamic recovery when the strain rate was as high as 10 s
−1
.