15.05.2019 | Metals & corrosion | Ausgabe 16/2019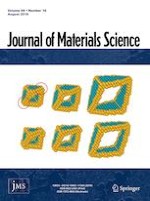 High-temperature magnetocaloric effect in devitrified Fe/Co based glassy monolayer and bilayer ribbons
Zeitschrift:
Autoren:

Sushmita Dey, R. K. Roy, A. Basu Mallick, A. Mitra, A. K. Panda
Wichtige Hinweise
Publisher's Note
Springer Nature remains neutral with regard to jurisdictional claims in published maps and institutional affiliations.
Abstract
Rapidly quenched Co- and Fe-based monolayer and their bilayer prepared through double nozzle technique have been characterized to investigate its microstructural and magnetic properties and their possibility as high-temperature magnetocaloric material. The Co- and Fe-based monolayer ribbons displayed Curie temperatures (
T
C
) of 463 K and 700 K, respectively. Magnetic entropy change ∆
S
M
of the bilayer was measured at a low magnetizing field of 1 T in the temperature spans covering separately for
T
C
of Co- and Fe-based ribbons corresponding to separate entropy at low- and high-temperature regime. The ∆
S
M
value at
T
C
of Fe-based ribbon displayed values in the span of 1.13–1.71 J kg
−1
K
−1
in their monolayer and bilayer state. On incipient nanocrystallisation at 773 K, the ∆
S
M
and refrigerant capacity (RC) around
T
C
of cobalt-based bilayer ribbon revealed comparable values as in their as-quenched state. However, nanocrystallisation elevated the ∆
S
M
of bilayer across
T
C
of the Fe-based regime to a high value close to 4.6 J kg
−1
K
−1
with a fairly elevated RC of 96 J kg
−1
. The enhanced ∆
S
M
associated with the formation of Fe-based nanocrystallites is evidenced through transmission electron microscopy. The interdiffusion of ferromagnetic elements Fe and Co is also supposed to elevate the ∆
S
M
as well as the RC of the glassy system in the bilayer ribbons.