22.03.2018 | Original Paper: Nano-structured materials (particles, fibers, colloids, composites, etc.) | Ausgabe 2/2018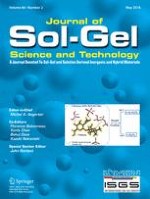 High-temperature stable transition aluminas nanoparticles recovered from sol–gel processed chitosan-AlOx organic–inorganic hybrid films
Zeitschrift:
Autoren:

Fakhreia Al Sagheer, Shamsun Nahar, Ahmed Abdel Nazeer, Ali Bumajdad, Mohamed I. Zaki
Wichtige Hinweise
Highlights
Chitosan-AlOx hybrid films were successfully prepared via sol-gel processing.

Transitional (γ,η,ι) Al2O3 nano-powders were thermally recovered from the films.

The recovered aluminas assumed stable bulk and surface properties at ≥ 800 °C.

The abundant bio-waste, chitosan, is a synthetic medium for catalytic-grade aluminas.
Electronic supplementary material
Abstract
Five and ten weight percent-alumina-containing chitosan-AlOx films were prepared via sol–gel processing. The films were AlOx-agglomerate-free. These organic–inorganic films were degraded by heating at 500 °C. The solid powder residues were found by means of thermogravimetry, X-ray diffractometry, infrared spectroscopy, and electron microscopy to consist of alumina (Al2O3) nanoparticles entraping volatile components, whose thermal removal encouraged ambient oxygen uptake. The surface microstructure and morphology of the recovered alumina nanoparticle were inspected by high-resolution transmission and scanning electron microscopy. Also, the surface chemistry and texture were evaluated by X-ray photoelectron spectroscopy and N2 sorptiometry. Coalescences of globular nanoparticles of γ-/η-Al2O3 were the dominant composition of the 800 °C calcination product of the recovered alumina, irrespective of the alumina-content of the film. Upon increasing the calcination temperature up to 1100 °C, an enhanced polymorphic transition into agglomerated nanoparticles of the seldom encountered Iota-(ι-)Al2O3 took place. The high thermal stability of the otherwise unstable transition aluminas (at ≥950 °C) may suggestively owe to its polymorphic interdependence and/or persistent nanoscopic nature (average particle size = ca. 3–4 nm; specific surface area = ca. 80–60 m2/g). The surface chemical composition for the recovered transition aluminas nanopowders promises versatile acid–base properties for catalysis applications. Accordingly, the highly abundant bio-waste, chitosan, was successfully utilized as a novel synthesis medium for catalytic-grade alumina nanoparticles.
×