23.06.2020 | Topical Collection: Biodegradable Materials for Medical Applications II | Ausgabe 9/2020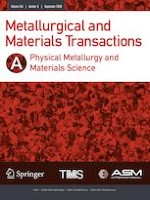 Highly Ductile Zn-2Fe-WC Nanocomposite as Biodegradable Material
Zeitschrift:
Autoren:

Zeyi Guan, Chase S. Linsley, Shuaihang Pan, Christina DeBenedetto, Jingke Liu, Benjamin M. Wu, Xiaochun Li
Wichtige Hinweise
Manuscript submitted December 3, 2019.
Publisher's Note
Springer Nature remains neutral with regard to jurisdictional claims in published maps and institutional affiliations.
Abstract
Zinc (Zn) has been widely investigated as a biodegradable metal for orthopedic implants and vascular stents due to its ideal corrosion
in vivo
and biocompatibility. However, pure Zn lacks adequate mechanical properties for load-bearing applications. Alloying elements, such as iron (Fe), have been shown to improve the strength significantly, but at the cost of compromised ductility and corrosion rate. In this study, tungsten carbide (WC) nanoparticles were incorporated into the Zn-2Fe alloy system for strengthening, microstructure modification, and ductility enhancement. Thermally stable WC nanoparticles modified the intermetallic
\( \zeta \)
-FeZn
13
interface morphology from faceted to non-faceted. Consequently, WC nanoparticles simultaneously enhance mechanical strength and ductility while maintaining a reasonable corrosion rate. Overall, this novel Zn-Fe-WC nanocomposite could be used as biodegradable material for biomedical applications where pure Zn is inadequate.