01.10.2016 | Research Paper | Ausgabe 10/2016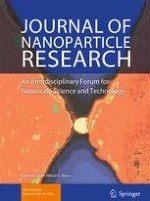 Histological and genotoxic evaluation of gold nanoparticles in ovarian cells of zebrafish (
Danio rerio

)
Zeitschrift:
Autoren:

Navami Dayal, Mansee Thakur, Poonam Patil, Dipty Singh, Geeta Vanage, D. S. Joshi
Abstract
Gold nanoparticles (AuNPs) have attracted a lot of attention due to their usage in consumer- and therapy-based biomedical applications. These particles are frequently the medium-sized particles within the range of 10–50 nm. A number of scientific reports have addressed the cytotoxic potential of these NPs. However, their genotoxic potential with respect to reproductive aspects remains unclear. For assessment of safety and risks associated with AuNPs to female reproductive system, adult female zebrafish
(Danio rerio)
were exposed in vivo to 20 μg/g/day of AuNPs of two different sizes. AuNPs of 15 nm (type I) and 47 nm (type II) in diameters were administered orally to female zebrafish for a period of 28 days (chronic). The ability of these AuNPs to gain access to female reproductive organs was confirmed by their accumulation pattern through inductive coupled plasma mass spectroscopy. Gonads were assessed for changes in ovarian morphology at histopathological level followed by the confirmation of bioaccumulation of AuNPs using transmission electron microscopy. Using comet assay, strand breaks in DNA of ovarian cells were investigated. Chronic exposure to type I and II AuNPs showed distinctive patterns of bioaccumulation in ovaries. Interestingly, accumulated NPs resulted in gross cellular alterations in different cell types of ovarian tissue. Comet assay analysis revealed extensive number of strand breaks in ovarian cells from the NP exposed fishes. In conclusion, AuNPs ranging between 10 and 50 nm are capable of gaining access to ovaries of zebrafish and potential enough to cause strand breaks in ovarian cells. The findings of the present study highlight the adverse effects of these NPs to female reproductive system. It opens up further avenues for research on effects of these NPs on F
1
generation descending from the exposed fishes.