2017 | OriginalPaper | Buchkapitel
13. Historical Pollution and Human Rights Violations: Is There a Role for Criminal Law?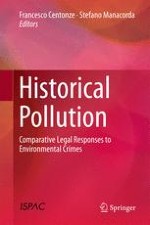 Erstes Kapitel lesen
Autor: Donato Vozza
Abstract
This chapter analyses the relationship between historical pollution and human rights violations in the light of the case law developed by international and regional human rights courts and other bodies. According to this case law, States are required to adopt preventive measures intended to handle certain cases of pollution that pose significant risks for human rights. Some regional courts oblige national authorities to protect the right to life in the context of dangerous activities through effective criminal investigations aimed at punishing—in the victims' interests—the individuals or corporations responsible for deaths or physical illnesses resulting from technological and environmental disasters. In this framework, two situations need to be distinguished. As far as "historical pollution" is concerned, criminal proceedings for deaths and injuries caused by past activities are often considered inadequate to meet the real needs of the victims and to respect the fundamental rights in criminal matters. Conversely, when human rights have been violated as an effect of "ongoing pollution" caused by industrial activities in the absence of appropriate public measures, criminal law is often required. Further developments in the case law of the human rights courts and bodies are expected: they will tell us whether, and if so to what extent, criminal law may play a role in strengthening human rights and environmental protection with reference to different cases of historical pollution.