2017 | OriginalPaper | Buchkapitel
14. Historical Pollution and Long-Term Liability: A Global Challenge Needing an International Approach?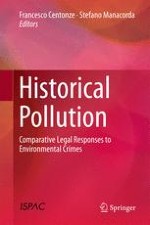 Erstes Kapitel lesen
Autor: Donato Vozza
Abstract
Historical pollution is a widespread problem: it is not only an old and unresolved question for many developed countries, but is, or will soon become, a new and complex issue for a number of developing countries. The management and remediation of land and groundwater contaminated by toxic substances released into the environment by past polluting activities thus represents one of the main challenges to which states are, or will be, called upon to give a response in order to protect the environment and human health. Despite this, there is currently no comprehensive strategy at international or EU level for protecting soil and remedying historic environmental damage . In effect, with regard to the remediation of environmental damage, the main binding instrument adopted at supranational level is the European Liability Directive, which cannot, however, be applied retroactively to historic damage; and all attempts to introduce a general instrument on soil protection at international or EU level have been unsuccessful. Furthermore, in accordance with the principle of non-retroactivity, EU Directive 2008/99/EC cannot be applied to past polluting activities carried out before its entry into force. The reluctance of many states to adopt a global strategy for addressing historical pollution has political, economic, legal, and cultural causes. Yet legacy pollution is a common problem for humanity: at stake are the rights of future generations exposed to such pollution. In this regard, the OECD's recommendations as elaborated in
Liability for
Environmental Damage
in Eastern Europe, Caucasus and Central Asia (EECCA): Implementation of Good International Practices
, and the
Sourcebook of Pollution Management Policy Tools for Growth and Competitiveness
drafted by the World Bank Group, offer significant examples of approaches aimed at addressing historical pollution from a legal, technical, and economic perspective. These instruments could form a basis for developing international guidelines on dealing with this category of pollution.