2020 | OriginalPaper | Buchkapitel
Holistic Approach for Determining a Helicopter's Airframe Interval for Depot Induction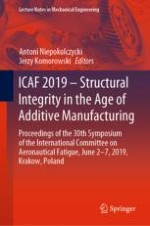 Erstes Kapitel lesen
Autoren: Craig L. Brooks, Samuel Benavides
Abstract
The US Coast Guard inducts MH-65 helicopters into their programmed depot maintenance (PDM) overhaul approximately every 48 to 52 months. The primary purpose of the PDM is to inspect for structural corrosion and fatigue, and if discovered, to repair the compromised structure. There are aircraft, however, that are prematurely—and thus unnecessarily—inducted into PDM because the aircraft are neither corroded nor are they cracked, resulting in a needless but expensive overhaul evolution. Other aircraft arrive in depot with corrosion beyond repair limits due to harsh and extreme environments of operations. The PDM interval is USCG mandated based upon the historic amount of corrosion observed, not from prescribed interval recommendations from either the Original Equipment Manufacture or FAA recommendations. A holistic evaluation and assessment of the MH-65 programmed depot maintenance process results in the following major findings and recommendations:
A component criticality and prioritization process determined the potential structural depot drivers for PDM induction.

For the PDM drivers, the components were evaluated for the following three damage progression failure modes: (1) fatigue, (2) pitting and fatigue, and (3) general corrosion degradation.

Corrosion & Fatigue Damage Tolerance Assessments (CDTA) were performed to yield the depot induction interval capturing the full helicopter airframe structure. The results of this work recommends increasing the mean PDM induction interval to 60 months ±10% as the optimal depot interval.

Significant cost avoidances are afforded by implementation of the PDM extension.
The project consisted of a comprehensive study of the many aspects of the induction cycle, addressing the "who, why, what, where, and how" of the PDM. The primary focus of this paper is the qualitative and quantitative methods employed to determine the better "when" the induction interval should be to maintain the fleet airworthiness.