21.01.2017 | Original Paper | Ausgabe 3/2017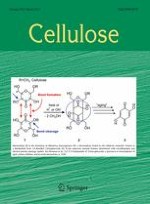 Homogeneous alkalization of cellulose in
N

-methylmorpholine-

N

-oxide/water solution
Zeitschrift:
Autoren:

Yong Zhang, Shengwei Tang, Tao Zhang
Abstract
Alkali cellulose is an important intermediate in the production of cellulose derivatives.
N
-methylmorpholine-
N
-oxide (NMMO)/H
2
O was used as a homogeneous reaction medium for the cellulose alkalization process to intensify the alkalization degree and improve the substitution uniformity. The morphology, specific surface area and crystalline structure of pristine cellulose, the as-synthesized alkali cellulose and dissolved-regenerated cellulose were characterized by SEM, BET, XRD and FT-IR, respectively. The results showed that the homogeneous reaction medium not only offered a low mass transfer resistance, but also facilitated a disruption of the hydrogen bond in cellulose, thus resulting in the transformation of the cellulose structure from complicated stacking chains to simple glucose chains. The interior hydroxyl groups in the cellulose became accessible to the alkaline reagent NaOH to enhance the alkalization process for the increase in bonding alkali content and the improvement in substitution uniformity. The bonding alkali content was calculated by the difference between total added alkali and free alkali and was achieved as 0.61 g/g cellulose at the optimized operation conditions: reaction temperature of 95 °C, reaction time of 90 min, NMMO dosage of 90.00 g, cellulose 1.0 g and NaOH concentration of 1.40 wt%. Meanwhile, in the conventional alkalization process, the bonding alkali content was just 0.41 g/g cellulose. The alkali cellulose prepared in NMMO/H
2
O medium has a large specific surface area of 125 m
2
g
−1
and an extremely low crystallinity degree. The NMMO/H
2
O system represents a potential homogeneous solvent for the cellulose alkalization process.