2016 | OriginalPaper | Buchkapitel
3. Homogeneous Polymer Films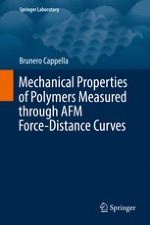 Erstes Kapitel lesen
Autor: Brunero Cappella
Abstract
This chapter presents studies on the mechanical properties of homogeneous polymer samples grouped in four cathegories: basic experiments about homogeneous polymers, measurements with colloidal probes, characterisation of viscoelastic behaviour and determination of the temperature dependence of elastic moduli.
Since atomic force microscopy is a relatively recent technique for the measurement of Young's moduli, AFM results are compared with those obtained through other techniques (instrumented nanoindentation, dynamic mechanical analysis, etc.) whenever possible.
A critical review of the results obtained, of their inherent uncertainties, mostly due to the shape of the tip and to the nanoscale topography of the sample, and of the necessary experimental effort reveals quite soon that atomic force microscopy has severe drawbacks, when compared with other well-established techniques.
Such drawbacks are mainly the fact that AFM measurements are very time-consuming and that results are affected by large uncertainties. As a matter of fact, the research field in which atomic force microscopy can be employed advantageously is the study of nonhomogeneous samples. In this case, AFM is often the only technique which can be employed.
Yet, the determination of Young's moduli of homogeneous samples is important, because it proves that AFM indentation is a feasible technique, able to yield quantitative results.