2013 | OriginalPaper | Buchkapitel
Homogeneous Transformations and Joint Coordinates in the Description of Geometry of Multibody Systems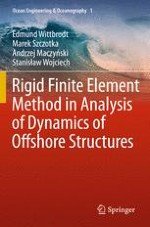 Erstes Kapitel lesen
Autoren: Edmund Wittbrodt, Marek Szczotka, Andrzej Maczyński, Stanisław Wojciech
Verlag: Springer Berlin Heidelberg
Basic models of bodies used in dynamic analysis of mechanical systems, including multibody systems, are a material point and a rigid body. They have, respectively, three and six degrees of freedom. To describe their positions either three or six independent coordinates must therefore be given. Usually, the position is given in a rectangular clockwise Cartesian system. It is then convenient to express the position of a point as a vector, also called a radius vector. To describe a body's position, an additional coordinate system is attached to it in a fixed way. The position of this coordinate system, thus also of the body, is defined by giving the position vector of a selected point of the body (usually coinciding with the origin of the coordinate system attached to the body) and additionally a 3×3 matrix called a rotation matrix. In classical mechanics, displacement of a body from one position to another is treated as a superposition of two motions: translation and rotation. As a consequence, if a position vector of a point in the movable coordinate system attached to the body is given, and a position vector of this point in the reference system is to be determined, two mathematical operations are necessary: multiplication of the rotation matrices and addition of two vectors. By introducing the method of homogeneous transformations, the notation can be simplified. Such transformations are described by 4×4 matrices and take into account both a translation of a coordinate system and its rotation. The convenience of such interpretation makes it highly popular in robotics [Craig J. J., 1988], [Morecki A., et al., 2002], [Spong M. W., et al., 2006], [Jezierski E., 2006], which is a domain where multibody systems commonly occur.
In the classical approach, the positions of links are expressed in a global static coordinate system. To describe a system with
n
links, 6×n parameters have to be specified. These are called absolute coordinates. The use of joint coordinates which define motions of links relative to their predecessors in a kinematic chain enable a description of the positions of the system's consecutive links with far less parameters.
The current chapter offers a basic introduction to describing positions and orientations of coordinate systems, transformations of vectors and joint coordinates. Application of homogeneous transformations and joint coordinates to describe the geometry of multibody systems is also discussed.