01.02.2011 | Ausgabe 1/2011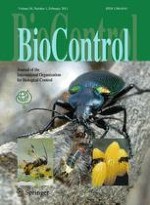 Host size, superparasitism and sex ratio in mass-reared
Diachasmimorpha longicaudata

, a fruit fly parasitoid
Zeitschrift:
Autoren:

Pablo Montoya, Jorge Cancino, Gabriela Pérez-Lachaud, Pablo Liedo
Wichtige Hinweise
Handling Editor: Torsten Meiners.
Abstract
We analyzed the relationship among host size, superparasitism and sex-ratio in mass reared
Diachasmimorpha longicaudata
(Hymenoptera: Braconidae). Individual host pupae of
Anastrepha ludens
(Diptera: Tephritidae) were measured (length and width), and the number of oviposition scars per pupa was used as a reliable indicator of superparasitism. The probability of an emerging parasitoid being a female was positively associated with the number of oviposition scars on the host cuticle, but not with the host size. The number of scars per host pupae from which females emerged was slightly but significantly higher than in those pupae giving raise to males. In
D. longicaudata
, the influence of host size on sex allocation decisions of individual females seems to be overridden by the level of superparasitism, which itself was positively correlated with pupa length. This suggests that larger pupae could experience a higher number of ovipositions than their smaller counterparts, and that a high level of superparasitism may conduct to a female biased sex ratio. We discuss the relevance of these findings which could provide new elements (e.g., the manipulation of superparasitism) for optimizing the mass rearing of this parasitoid.