Erschienen in: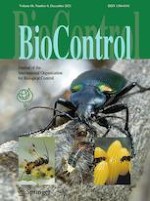 18.08.2021
Host specificity testing of
Pauesia nigrovari

a (Hymenoptera: Braconidae: Aphidiinae) for classical biological control of

Tuberolachnus salignus

(Hemiptera: Aphididae: Lachninae) in New Zealand

Erschienen in: BioControl | Ausgabe 6/2021

Einloggen, um Zugang zu erhalten
Abstract
Classical biological control is being attempted for the giant willow aphid,
Tuberolachnus salignus
(Gmelin) (Hemiptera: Aphididae: Lachninae), an invasive pest first recorded in New Zealand in 2013. Giant willow aphid (GWA) feeds primarily on species of
Salix
, and is also occasionally recorded on species of
Populus
,
Malus
and
Pyrus
in New Zealand where it is causing problems ranging from detrimental impacts on willow trees and honey bees, to honey losses, rising vespid wasp populations and risks to fruit exports. A biological control programme against GWA was initiated by importing into containment a parasitoid wasp,
Pauesia nigrovaria
(Provancher) (Hymenoptera: Braconidae: Aphidiinae), reared from GWA in California, USA. Host range testing was conducted using five non-target aphid species, including representatives of all aphid subfamilies and tribes in New Zealand that contain any native species (all are distantly related to the target host, GWA), as well as a closely related exotic pest species,
Cinara fresai
, in the same subfamily as the target host (Lachninae). No-choice tests were negative for all non-target species. A single
P. nigrovaria
individual attempted to attack two
C. fresai
during behavioural assays. However these actions did not result in reproductive success. Our results demonstrate that
P. nigrovaria
is a host specific parasitoid and its release into the New Zealand environment poses negligible environmental risk.