07.10.2016 | Ausgabe 4/2017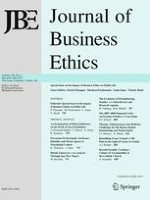 Hostile Takeovers—An Analysis Through Just War Theory
Zeitschrift:
Autor:

Michael Kinsella
Abstract
This paper examines the dynamics of hostile takeovers (HT's) as a form of corporate warfare. There are a number of compelling reasons for believing this to be an accurate approximation to corporate reality and therefore an appropriate analogy. In circumstances where it is all-too easy for either of the protagonists to act unethically (Berle and Means, The modern corporation and private property, Transaction Publishers, New Brunswick,
1991
), there is an evident need for an appropriate template through which to analyse and evaluate the ethical dilemmas that HT's inevitably raise (Armour and Skeel, Georget Law J 95:1727,
2007
)—whilst also, where possible, employing its prescriptions as a means of corporate conflict resolution. This paper evaluates just war theory (JWT) as one such template. In seeking a conceptually adaptable framework for analysing, interpreting and articulating antagonistic behaviour during a HT, it became apparent in the course of the research that JWT provided a potentially useful and viable template within which to pursue the above. The research questions centre not necessarily on whether this template could in some way be a substitute for statutory and regulatory constraints on unethical conduct but, rather, whether it might better inform all stakeholders of the importance of ethically informed restraint in the interest of the greater good.