08.01.2019 | Ausgabe 4/2019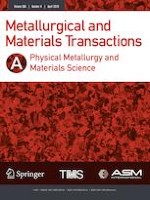 Hot Deformation and Recrystallization Mechanisms in a Coarse-Grained, Niobium Stabilized Austenitic Stainless Steel (316Nb)
Zeitschrift:
Autoren:

A. Hermant, E. Suzon, P. Petit, J. Bellus, E. Georges, F. Cortial, M. Sennour, A.-F. Gourgues-Lorenzon
Wichtige Hinweise
Manuscript submitted July 4, 2018.
Abstract
The hot deformation behavior and associated microstructural evolution of a coarse-grained Nb-bearing austenitic stainless steel (316Nb) has been investigated by the means of torsion tests at high temperature [1223 K to 1423 K (950 °C to 1150 °C)] followed by microstructural characterization. The starting microstructure was varied by applying prior annealing. Except for strains below 10 pct, the resistance to viscoplastic flow is not sensitive to the starting microstructure. On the other hand, prior annealing at higher temperatures increases the resistance to incipient viscoplastic flow and strongly impedes dynamic and post-dynamic recrystallization by delaying the grain boundary bulging phenomenon. It also affects the static recrystallization behavior during further annealing. The influence of the amount of available niobium atoms, in particular close to grain boundaries, is discussed.