09.01.2017 | Ausgabe 3/2017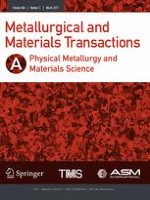 Hot Deformation Behavior and Dynamic Recrystallization of Medium Carbon LZ50 Steel
Zeitschrift:
Autoren:

Shiwen Du, Shuangmei Chen, Jianjun Song, Yongtang Li
Wichtige Hinweise
Manuscript submitted December 11, 2015.
Abstract
Hot deformation and dynamic recrystallization behaviors of a medium carbon steel LZ50 were systematically investigated in the temperature range from 1143 K to 1443 K (870 °C to 1170 °C) at strain rates from 0.05 to 3s−1 using a Gleeble-3500 thermo-simulation machine. The flow stress constitutive equation for hot deformation of this steel was developed with the two-stage Laasraoui equation. The activation energy of the tested steel was 304.27 KJ/mol, which was in reasonable agreement with those reported previously. The flow stress of this steel in hot deformation was mainly controlled by dislocation climb during their intragranular motion. The effect of Zener–Hollomon parameter on the characteristic points of the flow curves was studied, and the dependence of critical strain on peak strain obeyed a linear equation. Dynamic recrystallization was the most important softening mechanism for the tested steel during hot deformation. Kinetic equation of this steel was also established based on the flow stress. The austenite grain size of complete dynamic recrystallization was a power law function of Zener–Hollomon parameter with an exponent of −0.2956. Moreover, the microstructures induced under different deformation conditions were analyzed.