05.06.2017 | Ausgabe 7/2017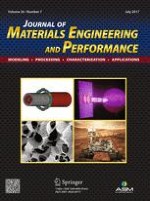 Hot Deformation Mechanisms of an As-Extruded TiAl Alloy with Large Amount of Remnant Lamellae
Zeitschrift:
Autoren:

Hongwu Liu, Rong Rong, Fan Gao, Yanguo Liu, Zhenxi Li, Qingfeng Wang
Abstract
The hot deformation mechanisms of an as-extruded Ti-44Al-5V-1Cr alloy with a large amount of remnant lamellae were investigated by hot compression tests at temperatures of 900-1250 °C and strain rates of 0.001-1 s
−1
. The hot processing map of the as-extruded Ti-44Al-5V-1Cr alloy was developed on the basis of dynamic materials modeling and the Prasad criteria. There were four different domains in the hot processing map, according to the efficiency of power dissipation,
η
. The flow soft and hot deformation mechanisms for different domains were illustrated in the context of microstructural evolution during the process of deformation. As a result, the dynamic recrystallization and superplastic deformation occurred at 1125-1150 °C near 0.001 s
−1
, and this region is suitable for superplastic forming. The
α
phase dynamic recrystallization and dynamic recovery occurred at 1250 °C and 0.1 s
−1
. The existence of small amount of the
γ
and
β
phases effectively inhibited the growth of
α
grains.