19.04.2017 | Topical Collection: Physical and Numerical Simulations of Materials Processing | Ausgabe 1/2018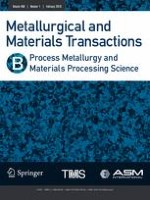 Hot Ductility and Compression Deformation Behavior of TRIP980 at Elevated Temperatures
Zeitschrift:
Autoren:

Mei Zhang, Haiyang Li, Bin Gan, Xue Zhao, Yi Yao, Li Wang
Wichtige Hinweise
Manuscript submitted December 15, 2016.
Abstract
The hot ductility tests of a kind of 980 MPa class Fe-0.31C (wt pct) TRIP steel (TRIP980) with the addition of Ti/V/Nb were conducted on a Gleeble-3500 thermomechanical simulator in the temperatures ranging from 873 K to 1573 K (600 °C to 1300 °C) at a constant strain rate of 0.001 s−1. It is found that the hot ductility trough ranges from 873 K to 1123 K (600 °C to 850 °C). The recommended straightening temperatures are from 1173 K to 1523 K (900 °C to 1250 °C). The isothermal hot compression deformation behavior was also studied by means of Gleeble-3500 in the temperatures ranging from 1173 K to 1373 K (900 °C to 1100 °C) at strain rates ranging from 0.01 s−1 to 10 s−1. The results show that the peak stress decreases with the increasing temperature and the decreasing strain rate. The deformation activation energy of the test steel is 436.7 kJ/mol. The hot deformation equation of the steel has been established, and the processing maps have been developed on the basis of experimental data and the principle of dynamic materials model (DMM). By analyzing the processing maps of strains of 0.5, 0.7, and 0.9, it is found that dynamic recrystallization occurs in the peak power dissipation efficiency domain, which is the optimal area of hot working. Finally, the factors influencing hot ductility and thermal activation energy of the test steel were investigated by means of microscopic analysis. It indicates that the additional microalloying elements play important roles both in the loss of hot ductility and in the enormous increase of deformation activation energy for the TRIP980 steel.