12.08.2016 | Ausgabe 5/2017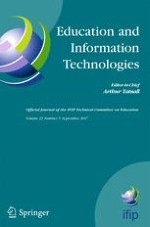 How and why Brazilian and French teachers use learning objects
Zeitschrift:
Autoren:

Cacilda Encarnação Augusto Alvarenga, Jacques Ginestié, Pascale Brandt-Pomares
Abstract
This study investigated the use of digital learning objects in elementary and secondary schools. The specific objectives were: a) to identify the frequency with which learning object are used by teachers, the type of object most frequently used, the teaching strategies that is more frequently adopted, the main reason for the use of learning objects in the classroom, and how teachers normally research and locate them; b) to investigate the existence of statistically significant relationships between personal variables and the variables related to the use of objects; and c) to check the opinion of the teacher as to whether the school offers adequate infrastructure conditions to allow teachers to work with objects. An online questionnaire was answered by 992 teachers – of whom 187 were Brazilian and 805 were French. The data were statistically and qualitatively analysed. The learning objects most mentioned by the teachers were: images, videos, and software. The two main teaching strategies were a simple demonstration using a learning object or assigning a related activity to complement the demonstration. The two main reasons for educational use were to motivate the students for their studies and to help the in the learning of new concepts based on the features of the objects. Significant differences (
P
< 0.05) were found between the samples of French and Brazilian teachers. Personal variables proved to be related to the use of learning objects. The data reinforces the importance of training teachers in the use of learning objects and teaching strategies that contribute to the knowledge construction process in an interactive way, while taking into consideration the characteristics of technology.