2017 | OriginalPaper | Buchkapitel
How Are Product Ideas Validated?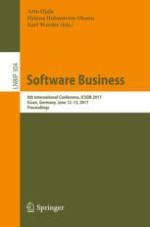 The Process from Innovation to Requirements Engineering in Software Startups
Autoren: Pertti Seppänen, Nirnaya Tripathi, Markku Oivo, Kari Liukkunen
Verlag: Springer International Publishing
Jetzt einloggen
Abstract
Although software startups are considered important for economic development due to their ability to quickly create cutting-edge technologies and their potential to scale to a wide market, contextual knowledge about the product idea development process of startups is poorly understood in the literature. This study explores the idea validation process of software startups in an attempt to understand the practices used for idea validation, discover how the process is affected by the founder's prior competencies, and determine the effect of those practices on requirement gathering. We conducted an exploratory multiple case study in nine software startups to determine the kind of practices they used for idea validation. We identified ten practices used as elements of the idea validation process. Our results show that idea validation is a highly non-linear process in which several validation practices are used in varying combinations and timing. The most frequently used practices included copying existing products, prototyping, utilizing expert support, and cooperating closely with customers. The founder's prior competencies also influenced the selected practices. Copying and prototyping were common practices when the founders had prior competencies in the application area, while utilizing expert support was a widespread practice to compensate for the founder's missing competencies. We also observed that the idea validation practices identified in the study serve requirement gathering at different levels of abstraction, varying from business-related requirements down to design-level requirements.