2018 | OriginalPaper | Buchkapitel
How Can Open Source Software Projects Be Compared with Organizations?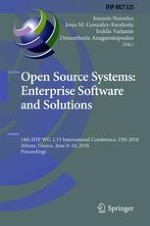 Autor: Remo Eckert
Abstract
The existence of a community plays a central role in the development of Open Source Software (OSS). Communities are commonly defined as a group of people sharing common norms or values. The common interest of an OSS project is obvious: to develop software under an OSS license. When we look at the rather general definition of a community, we see that there is a similarity to the term 'organization'. This paper draws parallels between OSS projects and the general elements of an organization and shows the different elements comprised in an OSS community: people, organization and assets. Each of those elements is enriched with examples from different research in the corresponding OSS research stream and provides a broad overview of the elements of OSS projects. With the help of this comparison, research on OSS can be made more focused and aligned with organizational research.