2017 | OriginalPaper | Buchkapitel
3. How Can We Measure the Mechanical Properties of Soft Tissues?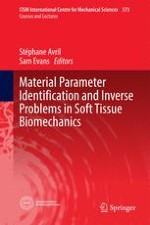 Erstes Kapitel lesen
Autor: Sam Evans
Abstract
Measuring the mechanical properties of soft tissues presents three interlinked problems. First, we must carry out experimental measurements to quantify the actual behaviour of the tissue. Second, we need to represent this by some kind of mathematical model, which typically has to be solved using numerical techniques such as the finite element (FE) method. Third, we need to find the parameter values in the model that best match the experiment and to quantify the uncertainty in the resulting material properties. Experimental measurements present numerous difficulties in comparison with conventional engineering materials and care is needed in the choice of test method, sample selection and preparation, calibration and interpretation of the results. Typically an optical technique may be needed to measure the deformation, such as digital image correlation (DIC). FE models of soft tissues are inherently difficult to solve because of their extreme nonlinearity and the typical stiffening behaviour with increasing deformation which leads to numerical instabilities. Possible ways to reduce convergence problems and increase the reliability of these models are discussed. The most common method to find the parameter values that match an experiment is to use an optimisation algorithm to try to find the parameters that best match the experimental results. However this is slow and there is no way of knowing whether the best parameters have been found or what range of other values could also be compatible with the experiment. A better approach is to generate a statistical emulator that predicts the result of the model and then to evaluate a wide range of parameter values in order to find the range of values that could be compatible with the experiment. This gives revealing insights into the uncertainty of the procedure and the validity of the final results.