2015 | OriginalPaper | Buchkapitel
How Cognitive Niche Construction Shapes Storytelling?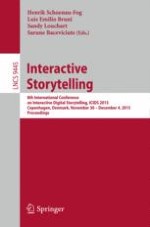 Erstes Kapitel lesen
An Investigation of e-picturebooks as Cognitive Artifacts
Autoren: Thales Estefani, Pedro Atã, João Queiroz
Abstract
Here we introduce a theoretical framework for investigation of the cognitive and semiotic nature of digital storytelling. Our approach analyzes e-picturebooks (digital picturebooks) as cognitive artifacts and their impact on cognitive niche construction. Cognitive artifacts have the power both to create new problems and to create means for solving these problems. When both these aspects are taken into account, cognitive artifacts can be seen as shaping cognition itself: endowing it with both needs and capabilities, creating ever more specialized tools to deal with ever more specialized tasks. We investigate (i) how the problem space of storytelling is structured on cognitive artifacts, (ii) what are the specific semiotic features of e-picturebooks and how these features can alter storytelling production and interpretation, and (iii) how these alterations influence general cognitive abilities regarding storytelling tasks.