20.02.2018 | Ausgabe 1-2/2018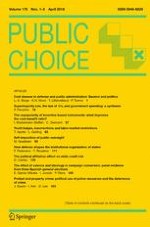 How defense shapes the institutional organization of states
Zeitschrift:
Autoren:

Fabio Padovano, Yvon Rocaboy
Wichtige Hinweise
I am of opinion that centralization will be the natural form of government.
Alexis de Tocqueville - Democracy in America, 1835
There is no real peace in Europe, if the states are reconstituted on a basis of national sovereignty... They must have larger markets. Their prosperity is impossible, unless the States of Europe ally themselves into a European Federation.
Jean Monnet 1943
As to population, we need a number such that they will be able to defend themselves against injury from adjoining peoples, and capable also of lending some aid to their neighbors when injured ... The number is 5,040, for purposes of war, and in peace for all purposes connected with contributions and distributions.
Plato - Laws, Book V.
Abstract
We analyze theoretically how the provision of military services explains the vertical and horizontal fragmentation of a state. The model innovates on the previous political economy literature which views such institutional arrangements arising only as a response to internal "technological" forces, not to strategic interactions within the state and with neighboring states. The model explains how these interactions lead communities of individuals to choose among three alternative types of institutional arrangements: 1) a union, i.e., a setting wherein both the vertical and the horizontal fragmentation of a state is minimized; 2) an alliance, whereby a state becomes more vertically fragmented by creating an upper government tier devised to take advantage of economies of scale; 3) autonomy, where horizontal fragmentation is maximized, as no merging of communities occurs and no higher government tier is created. A series of simulations of the model define the conditions under which each alternative institutional arrangement emerges in equilibrium.