2015 | OriginalPaper | Buchkapitel
28. How Does Energy Efficiency Affect Urban Water Systems?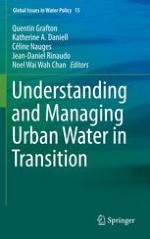 Erstes Kapitel lesen
Autoren: Steven J. Kenway, Paul A. Lant
Verlag: Springer Netherlands
Abstract
Urban water management influences significant energy use. In Australian cities, water management directly and indirectly uses 13 % of Australia's electricity and 18 % of its natural gas. Collectively, it accounted for 8 % of the country's primary energy use in 2007, approximately five times the direct energy use of the agricultural sector, excluding transport. Water-related energy consumption in cities includes energy used in the provision, consumption, and disposal of water. About 10 % is direct energy use by utilities. The majority of the figure relates to water used in homes, business, and government. There is scope for urban water management to reduce water-related energy use, particularly if strategies actively target the large amount of energy associated with water use.
A 'metabolic' approach to water mass balance can be used to account for all the inputs and outputs of water flowing through cities. The metabolic balance includes rainfall, stormwater run-off, and percolation to groundwater. It is very distinct to the supply–demand balance typically applied in urban water management. Application of such a balance to four Australian cities in 2004–05, a period of critical water shortage, demonstrated that significant volumes of water passed through them unaccounted for and unused. These unused and untracked local water resources have the potential to provide new supply options; however, they also require substantial efforts to harness effectively. Because urban water systems are completely interconnected with the cities they service, urban water problems cannot be solved in isolation of the city or its planning. Transitioning urban water strategies to become 'energy sensitive' therefore has wide implications for urban planning, funding, and management. Likewise, it has other consequences for our cities: wider use, understanding, reporting, and benchmarking of urban metabolism and the water–energy nexus could change how we think about our cities and their water systems. We could actually view our cities as sources of water, and could view our urban water systems as a partial solution to energy and greenhouse gas emission problems. Such thinking could lead to considerable changes in physical systems and institutional structures. As pointed out by Abel Wolman in 1965, there is no shortage of water or energy, but finding new solutions requires long-term thinking.