2013 | OriginalPaper | Buchkapitel
29. How Effective is Small Dam Flood Safety Accountability and Assurance Policy in Vietnam?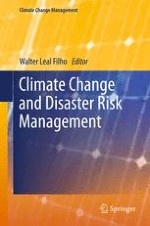 Erstes Kapitel lesen
Autoren: Tuyet Thi Dam, Roger L. Burritt, John D. Pisaniello
Verlag: Springer Berlin Heidelberg
Abstract
This paper examines the effectiveness of small dam safety accountability, responsibility and assurance policy practices in Vietnam. Vietnam is of interest because of the catastrophic consequences of an increasing number of dam failures in recent years associated to floods. Yet the solutions necessary to minimise dam failure in Vietnamese floods remain unexplored. The effectiveness of the Vietnamese small dam safety accountability, responsibility and assurance policy practices was tested in three stages. First, international benchmarks were established based on available literature for comparison with the case study in Vietnam. Second, ten on-site dam surveys were undertaken in Tan Moc commune to explore prevalent dam safety problems. Third, fifteen semi-structured interviews were conducted with five key stakeholder groups to examine perceptions of the effectiveness of the current policy and associated practices. The surveys demonstrated that all ten dams surveyed were rated "High" hazard and were at high risk of failure because of physical and management inadequacies. Interview evidence confirmed floods were the dominant cause of dam safety deficiencies and dam failures. In addition, accountability and responsibility for dam safety was poorly implemented, giving low levels of assurance to communities. The comparison showed that Vietnam not only failed to satisfy international benchmarks but also performed far below the minimum level. This research provides an original contribution towards assessing the status of small dam safety management and assurance policy in developing countries such as Vietnam.