01.12.2009 | Research Article | Ausgabe 6/2009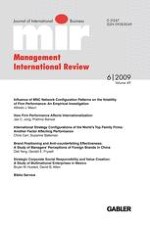 How Firm Performance Affects Internationalization
Zeitschrift:
Autoren:

Ass. Prof. Jae C. Jung, Assoc. Prof. Pratima Bansal
Abstract
Only a few studies have investigated whether a firm's performance has an effect on its internationalization. These studies, focusing on

actual

firm performance, have suggested a resource-based argument and generally found non-significant results.

In this paper, we argue that

relative

firm performance is critical in determining a firm's internationalization because it influences a firm's attitude toward risk-taking. We apply prospect theory to predict this relationship.

Using time-series, cross-sectional analysis of 701 Japanese firms from 1993 to 1998, we uncovered an inverted-U shaped relationship between a firm's relative performance and its degree of internationalization using its historical performance target. As compared to the industry target, relative performance showed a positive impact on a firm's internationalization.