01.10.2011 | Review Paper | Ausgabe 11/2011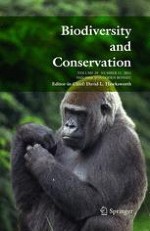 How functional is functional? Ecological groupings in terrestrial animal ecology: towards an animal functional type approach
Zeitschrift:
Autoren:

Niels Blaum, Eva Mosner, Monika Schwager, Florian Jeltsch
Abstract
Understanding mechanisms to predict changes in plant and animal communities is a key challenge in ecology. The need to transfer knowledge gained from single species to a more generalized approach has led to the development of categorization systems where species' similarities in life strategies and traits are classified into ecological groups (EGs) like functional groups/types or guilds. While approaches in plant ecology undergo a steady improvement and refinement of methodologies, progression in animal ecology is lagging behind. With this review, we aim to initiate a further development of functional classification systems in animal ecology, comparable to recent developments in plant ecology. We here (i) give an overview of terms and definitions of EGs in animal ecology, (ii) discuss existing classification systems, methods and application areas of EGs (focusing on terrestrial vertebrates), and (iii) provide a "roadmap towards an animal functional type approach" for improving the application of EGs and classifications in animal ecology. We found that an animal functional type approach requires: (i) the
identification of core traits
describing species' dependency on their habitat and life history traits, (ii) an
optimization of trait selection
by clustering traits into hierarchies, (iii) the
assessment of
"
soft traits
" as substitute for hardly measurable traits, e.g. body size for dispersal ability, and (iv)
testing of delineated groups for validation
including experiments.