2016 | OriginalPaper | Buchkapitel
19. How Hard Is a Problem?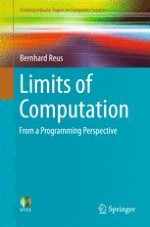 Erstes Kapitel lesen
Autor: Bernhard Reus
Abstract
Since no concrete
lower
bounds for problems in
NP
are known, we identify the "hardest" problems in this class. To express the "harder" (or rather "not simpler than") relationship one uses the concept of reduction. In order to ensure that one does not get out of the class of polynomial time verification, the reduction function is required to be computable in polynomial time. One can then show that if
P
\(\ne \)
NP
is assumed, none of those "hardest" problem in
NP
can actually have a polynomial time solution. In other words, to show that
P
=
NP
it suffices to find a polynomial time solution for any of the "hardest" problems in
NP
.