01.12.2009 | Ausgabe 4/2009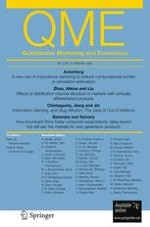 How incumbent firms foster consumer expectations, delay launch but still win the markets for next generation products
Zeitschrift:
Autoren:

Sumitro Banerjee, Miklos Sarvary
Wichtige Hinweise
This paper is based on Banerjee's dissertation thesis at INSEAD, France. Banerjee is grateful to David Soberman, Markus Christen and Christoph Loch for their remarks and suggestions. Very special thanks to Hubert Gatignon for his advice and helpful comments.
Abstract
Consumers learn quality of many durable products through word-of-mouth information while firms launch new and improved products frequently in these markets. This paper examines firm incentives to invest in R&D to compete for patents in makets where consumers rely on word-of-mouth information and have expectations about the new products before launch. When its loss due to a possible entry is above a threshold, an incumbent has more incentives than a potential entrant to invest in R&D for patents. Moreover, if the current product is more profitable, its true quality is above consumer priors and the quality of the new product is below a threshold, it is optimal for the incumbent to launch the new product after a time lag. The later the optimal time of launch, the greater is the incumbent's potential loss if entry occurs and greater its incentives is to invest in R&D versus that of the entrants. While potential entrants are generally thought to have more incentives to invest in a drastic innovation which results in a race to launch the new products, we show that the more drastic the innovation, the later the optimal time of launch and greater are the incumbent's incentives to invest in R&D when the value added of the new product can be conveyed to all the consumers. Only when consumers are uncertain about the value added of the new product, the incumbent's incentives are lower. We also demonstrate that by promoting consumer expectations about the new product before launch, an incumbent has more time to launch and higher probability of dominating its market.