2017 | OriginalPaper | Buchkapitel
10. How Italian Tax Policy Provides Incentives for Investment in Developing, Emerging, or Low-Income Countries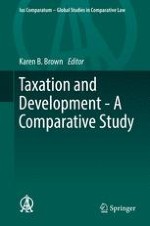 Erstes Kapitel lesen
Autor: Claudio Sacchetto
Abstract
Italy has designed its international tax system to avoid distortion of investment decisions of its residents. This prevents the use of tax incentives to encourage investment in developing or low-tax countries. Italy has, instead, chosen to employ non-tax strategies to assist these nations in fighting poverty and to otherwise to develop viable economies. Although Italy once included tax sparing clauses in treaties with developing countries, it has in recent years not allowed them, hoping to direct investment into poor regions in Italy rather than those abroad. In lieu of tax sparing, Italy has entered into many agreements with developing countries to promote and protect investment. It has also provided relief in the area of customs duties through the Cotonou Agreement. In addition, a special regime for non-profit organizations dedicated to the pursuit of certain social goals may be used to assist low-income countries by providing tax benefits for donors.
Synopsis
Having adopted the tax policy principle of neutrality, Italy has designed its international tax system so as not to distort the investment decisions of its constituents. This translates into a decision not to encourage investment in developing countries through the use of Italian tax incentives. Instead, Italy has employed non-tax strategies believed to assist these nations to fight poverty and to otherwise thrive.
Italian residents, both individuals and corporations, are taxed on their worldwide income. This represents a shift from the prior territorial regime which was eliminated in 1973. Double taxation of income under the worldwide taxation regime is alleviated by use of the foreign tax credit contained in Italian legislation or via a double taxation treaty. Adoption of the worldwide tax system may represent a prevailing view in Italy that the territorial system may not advantageous to poor countries that sacrifice revenue needed for development by engaging in tax competition. Use of the worldwide system with a foreign tax credit disrupts the ability of developing countries to attract foreign investment by offering lower tax rates.
Italy has a participation exemption that applies to dividends received from foreign subsidiaries as well as to capital gains resulting from the sale of shares held in these companies. If requirements are met, 95 % of the dividend received is exempt from corporate income tax. Capital gain on the sale of shares is also exempted from tax. The exemption is not allowed if the subsidiary is a "black-listed" company.
Controlled foreign corporation (CFC) rules treat the profits of a controlled (or connected) subsidiary as those of the parent. The rules cover only companies organized in a jurisdiction that has an effective tax rate significantly lower than Italy's and does not have an adequate exchange of information agreement with Italy. The CFC rules do not apply if the parent corporation can demonstrate that the subsidiary conducts real business activity in the listed jurisdiction or establish that the subsidiary is not used exclusively to shift profits. The CFC rules also extend to deductibility of costs relating to transactions with companies located in specified low-tax jurisdictions. These provisions remove any advantage an Italian corporation would hope to gain by investing in a developing country with low tax rates.
While in the 1970s Italy negotiated a number of treaty containing tax sparing clauses, with the advent of OECD's disapproval of these clauses in the 1990s, it has moved to eliminate them as it renegotiates treaties. Tax sparing was not included in treaties with Eastern Europe because these have been negotiated only recently. In addition, these types of treaties are lacking because Italy hoped to direct its residents to investments in poor regions in Italy rather than those abroad. In lieu of tax sparing, Italy has entered into numerous agreements with developing countries for the promotion and protection of investments.
Because of the EU prohibitions on State Aid, among other reasons relating to difficulty in targeting the appropriate companies, Italy has refrained from enacting tax legislation that would provide direct incentives for investment in developing countries. Instead it has taken initiatives in the area of customs duties through the "Cotonou Agreement" with African, Caribbean, and Pacific states arranged through the EU. This has led to assistance in structural reforms, maritime accords, and free trade zones. Italy has aligned itself with current recent developments, including the Base Erosion and Profit Shifting initiative of the OECD, that suggest that the appropriate strategy is to assist developing nations create a stable market economy rather than offer tax incentives, aid, or unilateral investments.
A special regime for non-profit entities working for social good, the ONLUS (Non-profit Organization for Social Utility) regime, may be used to assist developing countries. Eligible entities, dedicated to pursuit of certain social and solidarity goals, benefit from exemptions for direct taxes and VAT. Donors to an ONLUS may deduct specified percentages of their annual income.
Tax exemptions provided the Roman Catholic Church may also indirectly benefit poor nations. Possibly because it is expected to support the poorest populations both in Italy and abroad, the Church enjoys tax exemptions and its contributors are allowed tax deductions for amounts paid to it and other religious organizations.
In order to avoid unintended effects, Italy does not employ tax incentives to encourage investments in developing countries. Instead it makes monetary donations, subsidizes loans and cancellation and conversion of debts, and funds cooperative projects.