01.08.2014 | Ausgabe 2/2014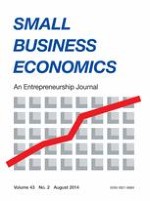 How much of a socialist legacy? The re-emergence of entrepreneurship in the East German transformation to a market economy
Zeitschrift:
Autoren:

Michael Fritsch, Elisabeth Bublitz, Alina Sorgner, Michael Wyrwich
Wichtige Hinweise
This article is based on our research in the framework of the Collaborative Research Center "Social Developments in Post-Socialist Societies—Discontinuity, Tradition, Structural Formation" at the universities of Halle and Jena, Germany. We are indebted to the German Research Foundation (DFG) for financial support. Comments of three anonymous referees on earlier versions helped us to considerably improve the article.
Abstract
We investigate how institutional change—the transition from a socialist system to a western type market economy—relates to the re-emergence of entrepreneurship in East Germany. This region is particularly well suited for such a study because of the rapid change of the institutional framework and the possibility to use West Germany as a benchmark. It took about 15 years until self-employment levels in East Germany reached those of West Germany. Despite this catch up, we find a number of peculiarities in East German self-employment that appear to be a continuing legacy of the socialist period. There is also a considerable correspondence of the regional levels of self-employment before, during and after the socialist period, suggesting the existence of a long-lasting regional entrepreneurship culture that can be regarded as an informal institution. This is in line with the hypothesis that informal institutions change much more slowly than formal institutions.