2014 | OriginalPaper | Buchkapitel
How Non-normal Is US Output?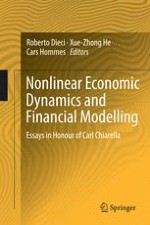 Erstes Kapitel lesen
Autor: Reiner Franke
Abstract
Several studies have recently rejected the common hypothesis that aggregate output is normally distributed, a finding that should also have a bearing on DSGE modelling. The present paper reconsiders this issue for quarterly US output data. To this end five test statistics are adopted, among them the shape parameter of the exponential power distribution (EPD), the two polar values of which constitute the normal distribution and the Laplace distribution with its fatter tails, respectively. The main results are: (1) Evidence of non-normality of the output gap disappears once it is controlled for the high serial correlation. (2) The non-normality results in the literature concerning the growth rates can be explained by normality in two subsamples once a structural break is taken into account. (3) The only way to detect non-normality in the subsamples is the estimation of the shape of EPD. (4) Normality cannot be rejected in the Great Inflation period and the Laplacian cannot be rejected for the period of the Great Moderation.