2015 | OriginalPaper | Buchkapitel
How Should Votes Be Weighted to Reflect the Existing and "Calculated" Distribution of Voting Power of Weighted Voting Organizations Integrating Different Majority Requirements?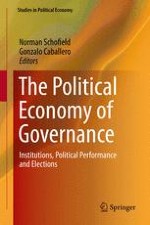 Erstes Kapitel lesen
Autoren: Michèle Khouri-Hagot, Bertrand Lemennicier
Abstract
Voting weight and voting power are not necessarily equal. The former represents the number of votes allocated to each member while the latter represents the ability of a member to influence voting outcomes. In this paper, we observe that, in general, 'calculated' voting powers, measured by the normalized Banzhaf index, tend to be linearly linked to voting weight. However, there are key exceptions; larger countries or 'outliers' have powers far less or more than proportional to their weight and their powers vary with majority requirements. First, based on a sample of weighted voting organizations [(African Development Bank (AfDB), International Bank for Reconstruction and Development (IBRD), International Fund for Agricultural Development (IFAD) and International Monetary Fund (IMF)], we ask, ourselves, how the votes should be weighted to reflect the existing and 'calculated' distribution of voting power, or the potential 'calculated' voting powers a larger country could expect with its 'existing' voting weight if proportionately between weight and voting power is the one observed for all other smaller countries and is the desired one. In this last case we offer an estimation of the opportunity cost of cooperation in the international organization in terms of loss of power but at the same time an estimation of the minimum implicit gains which cover these costs.