2017 | OriginalPaper | Buchkapitel
How to Build Guidelines for Eco-Improvement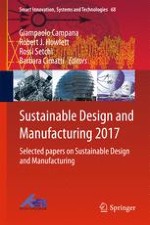 Erstes Kapitel lesen
Autoren: Davide Russo, Caterina Rizzi, Christian Spreafico
Abstract
Over the last 30 years the number of methods for Eco-design increased dramatically. LCA in Eco-assessment has established itself as a reference methodology and with it some tools that reached an international resonance. On the contrary, in the Eco-improvement world, the growth of methods has not been accompanied by a method or a tool better than other ones. One of the main reasons is the different type of users; there are people skilled in problem solving and those who have no experience. In addition, in order to be universal, the methods based on guidelines often do not go into too much detail, thus limiting their effectiveness. The balance between completeness and simplicity is the key issue around which the authors have attempted in recent years.
In such a context, this paper aims at solving this contradiction and proposes an ontological framework to build guidelines for eco-improvements. Their content has been structured into five parts, according to well-known conceptual design frameworks, such as Function-Behaviour-Structure (FBS) methods and similar.
The result is a set of over than two hundreds suggestions that can be comfortably used through a web portal following a recommended step-by-step methodological path.