2017 | OriginalPaper | Buchkapitel
How to Reduce the Negative Impacts of Climate Change?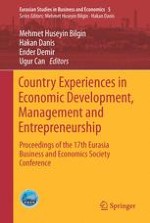 Erstes Kapitel lesen
Autor: Michalak Dorota
Abstract
Climate change is one of the greatest contemporary threats to our planet's environmental, social and economic well-being, accompanied by major changes in life support systems on Earth, where the far-reaching effects will be felt in the coming decades.
The purpose of the article is present general model of weather risk management in the company. To emphasize the importance of the topic at the begging the article presents consequences of climate change from economic, society and environmental point of view. Next there is showed how European Union as an organization deal with this phenomenon and how many organizations in the word deal with consequences of climate change. The article describes also financial solution for the company to minimize negative impacts of weather. Comparing conducted adaptation to climate change in Poland and in other European countries it can be noted that despite the growing awareness of the negative impact of weather among Polish enterprises and state institutions, there remains a lack of appropriate weather risk analysis, decision support models, and means to assess the effectiveness of measures implemented so far in response to climate change adaptation. To assist Polish companies in adapting to progressive climate change it is necessary to create databases about the damages caused by extreme weather events. There should be also studies showing what percentage of the Polish economy (GDP) depends on the weather conditions.