2018 | OriginalPaper | Buchkapitel
2. How We Got to Now: A Brief History of the Shale Energy Revolution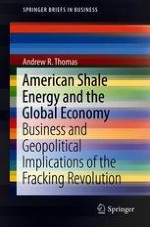 Erstes Kapitel lesen
Autor: Andrew R. Thomas
Abstract
The Carbon Age burst out of its adolescence during World War 1.

Supported by its domestic energy prowess and access to foreign oil, the United States rose to global dominance as the undisputed superpower during and after World II.

The American-created Bretton Woods System bolstered global capitalism, which has underpinned and maintained an unprecedented era of peace and prosperity around the world.

Global capitalism and its many benefits are intimately tied to a reliable and secure hydrocarbon supply.

Energy shocks starting in the 1970s raised real doubts about the future of American energy security, the sustainability of American Empire, and, the overall future of global capitalism.

Early Twenty-First Century innovative developments in energy extraction from shale rock—originating in the USA—coupled with unique characteristics of the American society have altered the global energy landscape.