09.01.2017 | Ausgabe 3/2017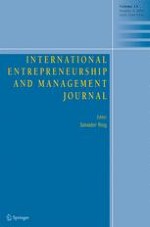 How well do EO measures and entrepreneurial behavior match?
Autoren:

Jeffrey E. Stambaugh, John Martinez, G. T. Lumpkin, Niyati Kataria
Abstract
The Entrepreneurial Orientation (EO) research stream is quite popular in investigating how companies act entrepreneurially and how EO relates to issues such as financial performance, innovation, and founder satisfaction. Part of EO's popularity may be that it is measured using simple, widely-accepted items. Yet the idea of how to best measure EO has become a recent topic of debate. Part of that debate is that the items measure dispositions as much as behaviors and are self-reported, which means they are somewhat subjective. This paper investigates the relationship between subjectively-measured EO and actual entrepreneurial behavior as measured through objective data. To do so, the paper examines the relationship between EO dimensions and realized risk-taking behavior. Using a sample of 156 community banks headquartered in the southwestern United States, the paper uses banks' risk-weighted asset ratio, which captures the riskiness of the bank's portfolio, as a measure of sustained entrepreneurial behavior. The analysis finds that subjectively-measured EO risk-taking is strongly related to objectively-measured realized bank risk-taking. There was not a significant direct relationship with the other EO dimensions, though there was some evidence of a moderated relationship. The paper lends some credibility to current EO measures and suggests how additional research is needed to improve upon EO's measurement.