2014 | OriginalPaper | Buchkapitel
1. Human Genetic Engineering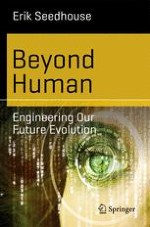 Autor: Erik Seedhouse
Verlag: Springer Berlin Heidelberg
Abstract
For many sci-fi enthusiasts, and I am among them,
Blade Runner
is arguably the greatest and most powerfully prophetic sci-fi film of all time. When Ridley Scott's masterpiece first appeared in 1982, the year 2019 was 37 years in the future and nobody was talking about human genetic engineering—except sci-fi enthusiasts perhaps. But today, in 2013, we're just 6 years away, and practically every popular science magazine has at least one article dedicated to the subject of genetic manipulation in each issue. Rarely has a film been so prescient. For those unfamiliar with Ridley Scott's epic, the
Blade Runner
story, which is loosely based on Philip K. Dick's novel
Do Androids Dream of Electric Sheep?
, is fairly straightforward. Set in 2019 Los Angeles, the film revolves around Deckard (played by Harrison Ford), a Blade Runner (member of a police special operations unit), who must hunt and retire (read: kill) replicants (genetically engineered beings virtually identical to humans). In short: cop hunts and kills super-humans. For me
Blade Runner
was much more than a simple prediction of the future. At the movie's core is the question of what it means to be human, although this question is never explicitly asked in the film. The idea of genetically enhanced humanity is played out between Deckard and the replicants, especially Roy Batty, the alpha replicant. One of the most thought-provoking themes explored in the movie is that these replicants, created for the use of humans, could override their own limitations and develop humanity, as evidenced in the film's final scene when Batty saves Deckard from certain death. Then there is the idea of providing the replicants with memories.