2019 | OriginalPaper | Buchkapitel
16. Human Health Risk Assessment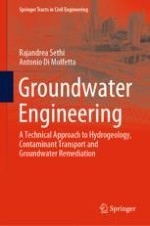 Erstes Kapitel lesen
Autoren: Rajandrea Sethi, Antonio Di Molfetta
Abstract
The focus of this chapter is human health risk assessment, which quantifies the human or environmental toxicological effects deriving from the release of a contaminant at a source and its migration towards exposed receptors. Essentially, this entails a quantitative description of the relations in the system "source—pathway—receptor". The procedure of risk assessment consists in a sequence of steps, starting from site assessment investigations, through the definition of a conceptual model (i.e., identification of potential receptors and migration and exposure pathways, selection of constituents of concern), the determination of concentrations at the point of exposure, actual risk calculation, to a risk management decision making stage (i.e., uncertainty assessment, risk acceptability evaluation, determination of the maximum acceptable concentration levels at the source and the selection of appropriate interventions). The risk assessment itself can be carried out at an increasing degree of detail, through a tiered approach, illustrated in the chapter. A relevant focus of this chapter is the calculation of the concentration at the point of exposure via the determination of the natural attenuation factor. This factor is the cumulative result of the contaminant concentration attenuation in the course of its migration from the source to the point of exposure (e.g., partitioning between environmental components, attenuation in the unsaturated medium, dilution in the aquifer or in rivers, volatilization). Having determined the concentration at the point of exposure, the calculation of the rate of exposure is presented. With these two parameters it is then possible to calculate the risk deriving the exposure to carcinogenic or threshold compounds, following a contamination event. The carcinogenic risk is quantified by the incremental lifetime cancer risk, which is a function of the slope factor (defined in Chap.
9
); the non-carcinogenic risk, instead, is quantified by the hazard quotient, which is a function of the reference dose (also defined in Chap.
9
). Once the risk has been calculated, its acceptability can be evaluated according to the local legislation, and measures to manage it can be put into place.