2018 | OriginalPaper | Buchkapitel
Humble Data Management to Big Data Analytics/Science: A Retrospective Stroll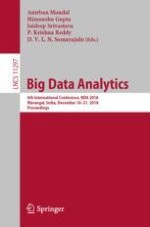 Erstes Kapitel lesen
Autoren: Sharma Chakravarthy, Abhishek Santra, Kanthi Sannappa Komar
Abstract
We are on the cusp of analyzing a variety of data being collected in every walk of life in diverse ways and holistically as well as developing a science (Big Data Science) to benefit humanity at large in the best possible way. This warrants developing and using new approaches – technological, scientific, and systems – in addition to building upon and integrating with the ones that have been developed so far. With this ambitious goal, there is also the accompanying risk of these advancements being misused or abused as we have seen so many times with respect to new technologies.
In this paper, we plan on providing a retrospective bird's-eye-view on the approaches that have come about for managing and analyzing data over the last 40+ years. Since the advent of Database Management Systems (or DBMSs) and especially the Relational DBMSs (or RDBMSs), data management and analysis have seen several significant strides. Today, data has become an important tool (or even a weapon) in society and its role and importance is unprecedented.
The goal of this paper is to provide the reader an understanding of data management and analysis approaches with respect to where we have come from, motivations for developing them, and what this journey has been about in a short span of 40+ years. We sincerely hope this presentation provides a historical as well as a pedagogical perspective for those who are new to the field and provides a useful perspective that they can relate to and appreciate for those who have been working and contributing to the field.