2013 | OriginalPaper | Buchkapitel
6. Hybrid Copper–Chlorine Cycle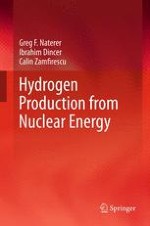 Erstes Kapitel lesen
Autoren: Greg F. Naterer, Ibrahim Dincer, Calin Zamfirescu
Verlag: Springer London
Abstract
In this chapter, the hybrid copper–chlorine (Cu–Cl) cycle for hydrogen production is examined in detail. The historical perspective of this cycle development is presented in Sect.
6.1
. A precursor of the cycle was proposed in 1974, which uses a non-electrochemical, non-thermochemical disproportionation of cuprous chloride; this process is based on complexation and chelating schemes that generate the desired products. Electrochemical hydrogen generation from hydrochloric acid and cuprous chloride electrolysis is one of the latest cycle developments for engineering scale-up. This process simplifies the separation steps and it has been proven by test-bench experiments. Two reactors were mainly studied for the hydrolysis reaction, which is a crucial cycle step: fluidized bed and spray reactor. Both are interesting schemes proposed for scaling up the cycle. At the University of Ontario Institute of Technology, a scaled up laboratory facility has been developed for each cycle step.
In total, seven cycle variants are examined in this chapter. The variants, including a copper electrowinning step, were studied mostly since 2003; much progress has been made in the development of the processes. Because electrowinning implies difficult separation of chemicals, it appears less feasible for large-scale implementation.
This chapter presents a detailed treatment of all relevant processes, such as electrochemical disproportionation, electrochemical chlorination, complexation, dehydration, drying, crystallization, hydrolysis, fluidized bed hydrodynamics and heat transfer, spray drying hydrodynamics and heat transfer, multiphase processes in reactors, thermochemical chlorination, thermolysis, heat recovery from molten salt, and special heat exchangers, as well as system integration of the unit operations.
Integration of the chemical plant with heat pumps and heat engines may have promising potential to substantially increase the overall hydrogen production efficiency. An interesting option is to use integrated heat pumps based on thermochemical processes such as a steam–methane reaction, or vapor compression heat pumps with CuCl as a working fluid.
Material research is also important for cycle development. Several corrosion-resistant coatings were developed—as explained in the chapter—and assessed experimentally by various methods. Various auxiliary systems are required for a full-scale plant. One item of major interest is separation of hydrochloric acid from an HCl/steam mixture exiting the hydrolysis reactor for purposes of recycling; this aspect is also detailed in a section of this chapter. Various concepts for a full-size plant and its equipment are presented, as well as simulation results with ASPEN Plus software. Other aspects are also discussed such as reliability, control, safety, environmental impact, and life cycle assessment. The overview in this chapter concludes that the Cu–Cl cycle is a promising candidate for large-scale hydrogen production with nuclear reactors.