21.12.2019 | SPECIAL ISSUE: 2019 MODEGAT September 8-10, Bad Herrenalb, Germany | Ausgabe 2/2020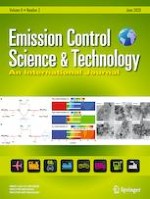 Hybrid FEM and FDM Approach for Monolithic Catalytic Converters with Pore Diffusion
Zeitschrift:
Autoren:

Wen Wang, Edward J. Bissett, Syed Wahiduzzaman
Wichtige Hinweise
Publisher's Note
Springer Nature remains neutral with regard to jurisdictional claims in published maps and institutional affiliations.
Abstract
A transient, three-dimensional model is developed for monolith catalytic converters with washcoat pore diffusion. Due to the unique configuration of monolith converters, the flow within the channel can be considered fully developed laminar flow, and one-dimensional transport equations can be formulated for the flow and species. On the other hand, a three-dimensional equation is necessary for the monolith solid temperature to capture the effects of significant external heat loss or flow maldistribution. The proposed model employs a three-dimensional finite-element method (FEM) for the solid temperature equation and a one-dimensional finite-difference method (FDM) for the flow and species equations. A recently developed asymptotic approach (Bissett, Emiss. Control Sci. Technol. 1(
1
), 3–16, 2015, Bissett, Emiss. Control Sci. Technol. 5(1), 45–54, 2019) is utilized to solve the washcoat pore diffusion and surface coverages equations. The three-dimensional FEM meshes are chosen so the nodes also serve for the one-dimensional transport equations. All equations are solved fully coupled, without lagging or reliance upon external tools. The developed solver can efficiently simulate general cross-section geometries (circle, oval, rectangle, etc.) for a catalytic monolith under nonuniform inlet distribution and detailed washcoat pore diffusion. The solver is verified by comparing the simulation results to the one-dimensional simulation results for a simple geometry under uniform inlet conditions. The model can be applied to flow through general monolith catalytic reactors with single or dual washcoat layers and a wide range of kinetics.