30.12.2017 | Technical Paper | Ausgabe 10/2018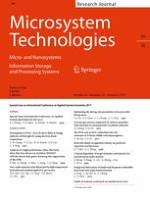 Hybrid micromolding of silver micro fiber doped electrically conductive elastomeric composite polymer for flexible sensors and electronic devices
Zeitschrift:
Autoren:

Shreyas Shah, MD Nahin Islam Shiblee, Sajjad Husain Mir, Larry Akio Nagahara, Thomas Thundat, Praveen Kumar Sekhar, Masaru Kawakami, Hidemitsu Furukawa, Ajit Khosla
Wichtige Hinweise
Shreyas Shah and Nahin Islam Shiblee contributed equally to this work.
Abstract
Development of conductive nanocomposites is critical to realize flexible electronics on diverse substrates. Tuning the electrical and mechanical characteristics of these nanocomposites can enable a spectrum of applications. Herein, we demonstrate a robust microfabrication protocol to implement electrically conductive polymer by doping polydimethylsiloxane (PDMS) with silver fibers, with potential applications in wearable devices, MEMS, and microfluidics. The conductive polymer was made by mixing silver fibers into uncured PDMS matrix. The prepared mixture was micromolded by three dimension (3D) printed master using soft lithography technique. Serpentine and spiral like microstructures were embedded on the nonconductive layer of PDMS. The SEM images show uniform dispersion of silver fibers in the composites. The percolation threshold for the prepared composite was found to be 25 wt%. Resistivity of the conductive elastomeric composite at 25 wt% was 0.013 Ω cm.