2013 | OriginalPaper | Buchkapitel
10. Hydrogen and Fuel-Cell Vehicle Technology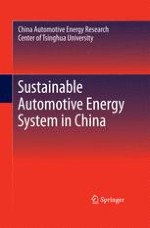 Erstes Kapitel lesen
Autoren: Wang Hewu, Huang Haiyan, Deng Xue, Ouyang Minggao
Verlag: Springer Berlin Heidelberg
Abstract
The hydrogen production and utilization and thus the flow chart are analyzed, and the fuel-cell vehicle technology and its demonstration activities are summarized; based on the analysis of government policies and vehicle development scenario, the hydrogen fuel-cell vehicle development pathway is suggested and recommended.
There is about 12 million tons of commercial hydrogen in China produced from fossil fuels and 6 million tons hydrogen as by-products, and these tons of hydrogen are consumed in large synthetic ammonia, oil refining, and methanol producing. The hydrogen directly used in fuel-cell vehicle demonstration activities is tiny.
The efficiency has improved from 2005 to 2010 by 49 and 62 % for pressured and normal fuel-cell systems, respectively; meanwhile, the specific power of the pressurized system has increased by 1.5 times. The fuel-cell buses and passenger cars have completed demonstrations in Beijing, Shanghai, and abroad during the last 5 years and achieved as low as 9.56 kg hydrogen consumption per 100 km for city bus.
China encourages the research and development of hydrogen production and fuel-cell vehicle technologies; the 6 million tons industrial by-product hydrogen capacity could satisfy the hydrogen supply demand for the fuel-cell vehicle development in recent 20 years.