01.10.2019 | Original Article | Ausgabe 20/2019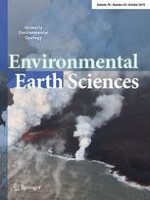 Hydrogeochemistry, isotopes and geothermometry of Ixtapan de la Sal–Tonatico hot springs, Mexico
Zeitschrift:
Autoren:

A. K. Martínez-Florentino, M. V. Esteller, E. Domínguez-Mariani, J. L. Expósito, J. Paredes
Wichtige Hinweise
Publisher's Note
Springer Nature remains neutral with regard to jurisdictional claims in published maps and institutional affiliations.
Abstract
The Ixtapan de la Sal–Tonatico hot springs are located in the geological setting of the Trans-Mexican Volcanic Belt, on the border of the Morelos–Guerrero Basin, which is carbonated region with limestone and silicic rocks. The temperature, electrical conductivity and pH of the thermal waters are 25.7–37.2 °C, 9520–13,920 µS/cm and 5.90–6.88, respectively. The hydrochemical family is NaCl (Cl
−
mean concentration of 2198 mg/L and Na
+
mean concentration of 1396 mg/L). The minor and trace elements that are notable for their high concentrations are B (19.69–23.58 mg/L), Li (6.09–8.06 mg/L), Sr (4.80–6.18 mg/L) and As (0.30–1.97 mg/L). Isotope data (
δ
18
O,
δ
2
H) show
δ
18
O enrichment of the thermal waters, which may be a result of isotopic exchange with the host rock at high temperatures, although the value was very small, which may be due to mixing with groundwater near the surface. The water samples were oversaturated with calcite, dolomite and quartz, verified in the field by the presence of precipitated rocks (travertines). The samples were undersaturated with chalcedony, silica gel, cristobalite, celestite and strontianite. Several chemical geothermometers and the results from multicomponent equilibrium suggest a reservoir temperature between 90 and 130 °C. Meanwhile, a temperature of 129 °C was estimated with the Cl–enthalpy mixing model. According to the conceptual model of the functioning of this system, considering that flow is characterized by the heating of water at deep zones due to the high geothermal gradient caused by recent tectonic activity. This water rises to the surface through fractures and faults. As it rises, thermal water mixes in different proportions with Ca-HCO
3
groundwater.