2019 | OriginalPaper | Buchkapitel
4. Hydrogeology of Florida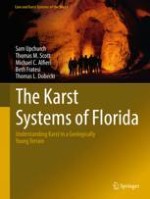 Erstes Kapitel lesen
Autoren: Sam Upchurch, Thomas M. Scott, Michael C. Alfieri, Beth Fratesi, Thomas L. Dobecki
Abstract
Recharge to Florida's three aquifer systems is controlled by prominent wet/dry seasons; multi-year wet/dry cycles; differences in weather patterns between northern and southern parts of the state; high evapotranspiration rates; and local degree of aquifer confinement.
The Surficial Aquifer System (SAS) comprises local, largely Plio-Pleistocene water-table aquifers, including the siliciclastic Sand and Gravel Aquifer and the extremely productive, carbonate Biscayne Aquifer, and undifferentiated surficial aquifer.
The Miocene Hawthorn Group hosts the Intermediate Aquifer System and Confining Unit (IAS/ICU). The IAS and ICU are defined in different areas based on the productivity of the very heterogeneous Miocene Hawthorn Group sediments. The ICU confines the underlying UFA via low-permeability clays and tortuous flow paths through interlayered sediments. Some karst development is evident in the IAS/ICU, especially near karst escarpments.
The Floridan Aquifer System (FAS) is subdivided in some areas into the Upper Floridan Aquifer (UFA), the Middle Confining Units (MCUs), and the Lower Floridan Aquifer (LFA). The UFA is highly productive, consisting of Middle Eocene to Early Miocene carbonates with well-developed karst as a result of dissolution by meteoric water and by freshwater/saltwater mixing dissolution at various elevations during past sea level fluctuations. Springs, sinkholes, and other karst features are common in unconfined areas. The LFA consists primarily of Paleocene-Eocene dolostones. It contains Boulder Zones (horizons of very high hydraulic conductivity) as well as possible deep karst probably developed along freshwater/saltwater mixing zones. The deep, high productivity zones may be the result of hypogenetic speleogenesis.
Groundwater flow in Florida's aquifers is largely lateral, gravity-driven flow recharging in unconfined areas and discharging in freshwater lenses and wedges at coastlines and rivers, with shallow aquifers exhibiting Tothian flow and geothermally driven circulation in the LFA.